Labiaplasty Surgery in Melbourne Victoria by Dr Carmen
Labiaplasty or Labia Minora reduction, also known as labioplasty, is a procedure to rejuvenate and reduce a woman's external genital area, providing a very natural result with minimal scarring.
Dr Carmen Munteanu is a specialist female plastic surgeon. She provides dedicated and compassionate care to her patients who wish to undergo this surgery to improve the functionality of their most intimate area.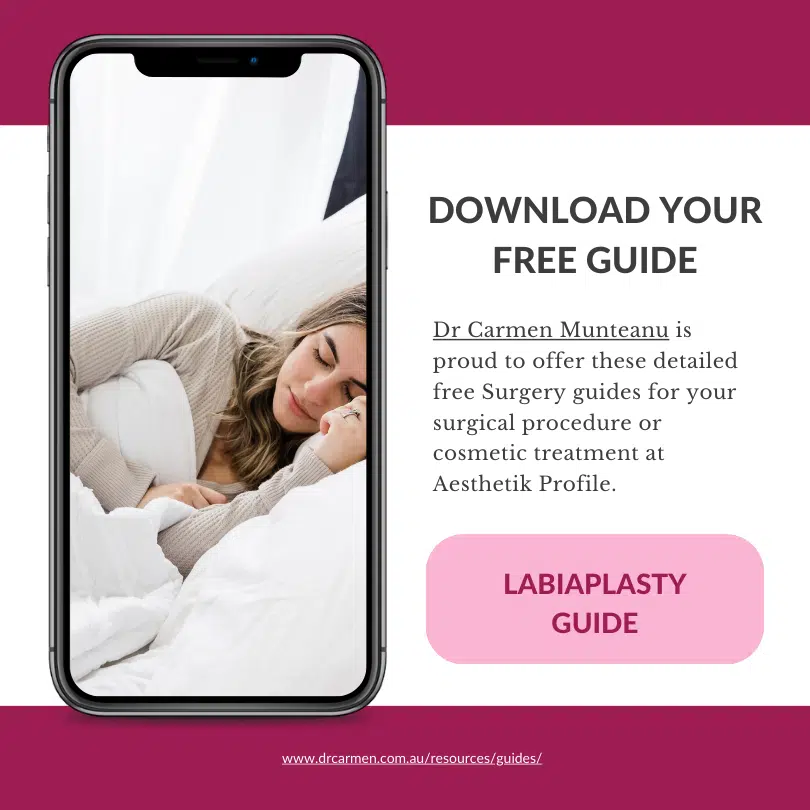 Download Dr Carmen's Guide to
Labiaplasty
Am I a Good Candidate for a Labiaplasty?
Whether it's due to discomfort wearing pants, rashes, infection, thrush or difficulties having sex, labiaplasty is a procedure which can address a whole range of issues for female patients.
In general, labiaplasty reshapes a woman's inner labia (labia minora), sometimes in association with the labia majora, as well as other small refinements of this delicate area.
A patient may wish to undergo this procedure to correct possible deformities by decreasing the size of some areas, altering their shape, or correcting symmetry or pigmentation differences. This treatment can also help to refine imperfections caused by vaginal birth.
Through different techniques and her anatomical knowledge, Dr Carmen Munteanu is tries to ensure this delicate procedure has minimal impact on sensation in the area after healing has been completed.
Dr Carmen Munteanu is able to provide compassionate and understanding treatment to women who wish to enhance the look of this intimate area.
Reasons to consider Labiaplasty Surgery
Do you suffer from painful Irritation or Discomfort?
Elongated labia can cause severe discomfort and irritation from cloth or during intercourse, leading to further conditions such as yeast infections.
Better Sexual Intercourse
Elongated labia may also inhibit sexual experience, making it more difficult for women to achieve orgasm.
What are the Benefits of a Labiaplasty?
Labiaplasty is something women may wish to consider to:
Reduce length or drooping
Reshape the vaginal labia majora
Reduce excess labial skin following weight loss
Labiaplasty Before and After Photos
WARNING!! – Sexually Explicit Images of Labia Surgery Results – Click to View
Labiaplasty Surgical procedure
Depending on your desired outcome, the techniques utilised for labiaplasty will vary from one person to another. In general, it will be completed as a day surgery.
Ideally, labiaplasty will be performed under general anaesthetic or intravenous sedation, though it is possible for it to be performed under a local anaesthetic.
The wedge technique
For patients who have asymmetrical labia or excess tissues, without concerns along the labia edge, Dr Carmen's preferred technique for labiaplasty is the wedge technique, which involved removing a wedge-shaped section of tissue, and then using sutures to close.
Through these advanced techniques, it is possible to address both the length and the width of the labia tissue, as well as proving a natural 'lift' to the perineal structures, and improve the posterior lip.
The clitoral hood and perineum imperfections resulting from vaginal birth and immediate repair can also be addressed if required.
It is also possible to achieve a degree of vaginal tightening by addressing the labia, posterior lip and perineum. If a more extensive approach is required, this may be addressed either simultaneously, or in a staged fashion.
As the incision is placed internally the stitches required will sustain minimal stress, which helps to aid the healing process and reduce post-surgical complications.
The exact shape will be designed on an individual basis, not using a template. Dr Carmen will recommend a customised treatment plan based on your unique anatomy, and desired results.
All stitches used in this procedure will be dissolvable.
Recovery after Surgery
In general the recovery time for labiaplasty is between two and four weeks. You will be provided with personalised instructions on how to care for the surgical site, and follow-up consultations with Dr Carmen.
It is important that care be taken during healing to not overdo anything in the area as it can expose a very sensitive part of the anatomy, which can then require difficult and delicate reconstructive surgery.
Longer-Term Results
Dr Carmen's technique using magnification helps to ensure good and natural-looking results, and her use of dissolvable sutures helps to achieve excellent healing with limited discomfort.
All surgery has risks – for detailed information about the risks and potential complications of labiaplasty please visit the risks of surgery page.
How much does a Labiaplasty Cost in Melbourne? Surgery Costs and Hospital Fees
Dr Carmen's team will provide you a personalised fee for your surgery depending on the type of procedure, hospital fees and whether you want to stay overnight in hospital.
An approximate fee range for your labiaplasty surgery can be provided over the phone when you speak to a Patient Care Advisor. We also provide information on different methods of payment.
At your initial consultation, you will be given a detailed quote for your procedure. This will include a Surgeon's fee, Anaesthetist fee, Surgical Assistant fee and the hospital fees.
Find out more about Labiaplasty Payment plans, Prices and Consultation Fees
Your Consultation with Dr Carmen
At your pre-operative consultation Dr Carmen Munteanu will listen carefully to your questions and goals, and conduct an examination before advising of your options and her recommendations. If you have any concerns, please don't be shy about bringing them up with Dr Carmen! There's no such thing as a silly question.
Surgical Risks and possible complications of surgery will be discussed in detail with you at the consultation with Dr Carmen
Further Reading – Medical References